If you're anything like us, you know a bath isn't just the act of bathing: It's an act of self-care. A pause for yourself and your wellness. A ritual of self-worship. And for a ritual that meaningful, we happen to think you deserve better than the bath beads that have been adorning the back of your grandma's toilet since 1990. You deserve a bath fit for a queen. You deserve Bathorium.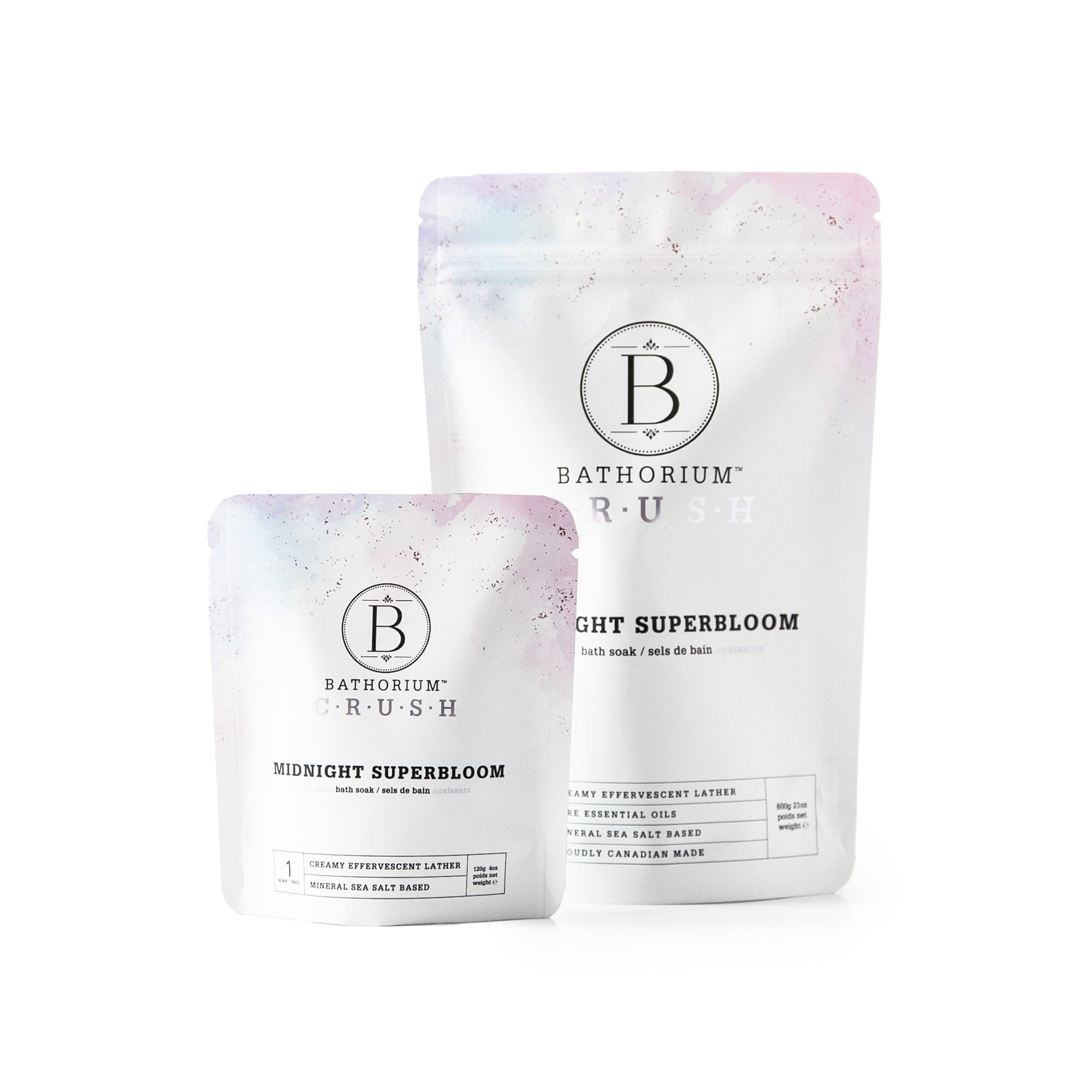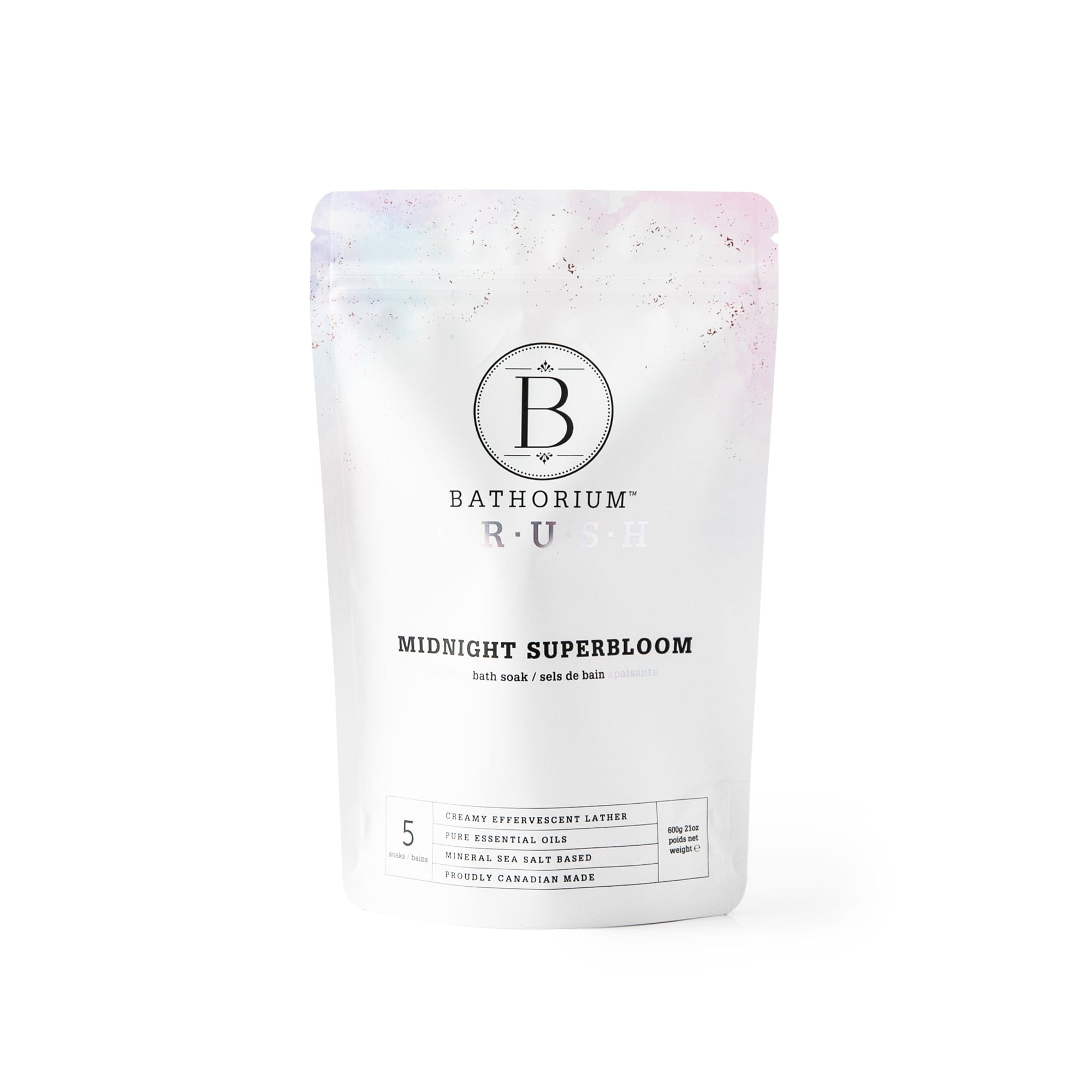 ---
Experience the natural phenomenon of a West Coast superbloom with essential oils of Jasmine, Neroli, Rose and Lavender.
The clock strikes midnight as this Crush Bath Soak casts a violet hue throughout the bath with the majestic elements from butterfly pea flower and finely milled Bulgarian Rose. Close your eyes and inhale.
You are worthy.
Clean, decadent ingredients. No toxins, artificial colours or synthetic fragrances.
Why Bathorium?
Clean ingredients, decadent experience
Good-for-you Ingredients
Made with certified clean and cruelty-free ingredients, our bath products don't just meet the strictest clean beauty standards, they're packed with good-for-you ingredients, too.
No Residue, No Rinsing
Never shower after a bath again. (You can thank us later.) Our bath products don't leave any residue on your skin or require any rinsing—you know, unless cold rinsing is your thing. 🚿
Hydrating, Never Drying
No need to lather on the lotion after a Bathorium bath: Unlike the average bath products that dry your skin, ours exfoliate, hydrate and soften with salts, clays, oils and plant butters.
Your Bath, Your Ritual
Make your bath your own: Sink into a creamy, decadent bath with any bath bomb, soak or treatment, or be your own Bathologist and mix them like a good cocktail. 🍸
discovering Bathorium was an absolute delight. These crush soaks have changed my relationship with taking baths and I can never go back.
I've been using Bathorium bath bombs for over 5 years now and I look forward to my weekly bath with so much pleasure. The quality is unmatched!
Obsession with the clay soaks is understatement. I feel like I'm at a five star spa in the hamptons. I'm a puddle of mush after I come out!
Mineral Bath Treatments
A mineral-rich, après-sweat bath soak
Post-workout? Check. Post-sauna? Of course. You name it, our mineral bath treatments are here for it: With a high concentration of salts and clays, they're mineral-rich to help you recover from your sweatiest endeavours—and get the spa experience at home (without the spa price tag).
Shop Treatments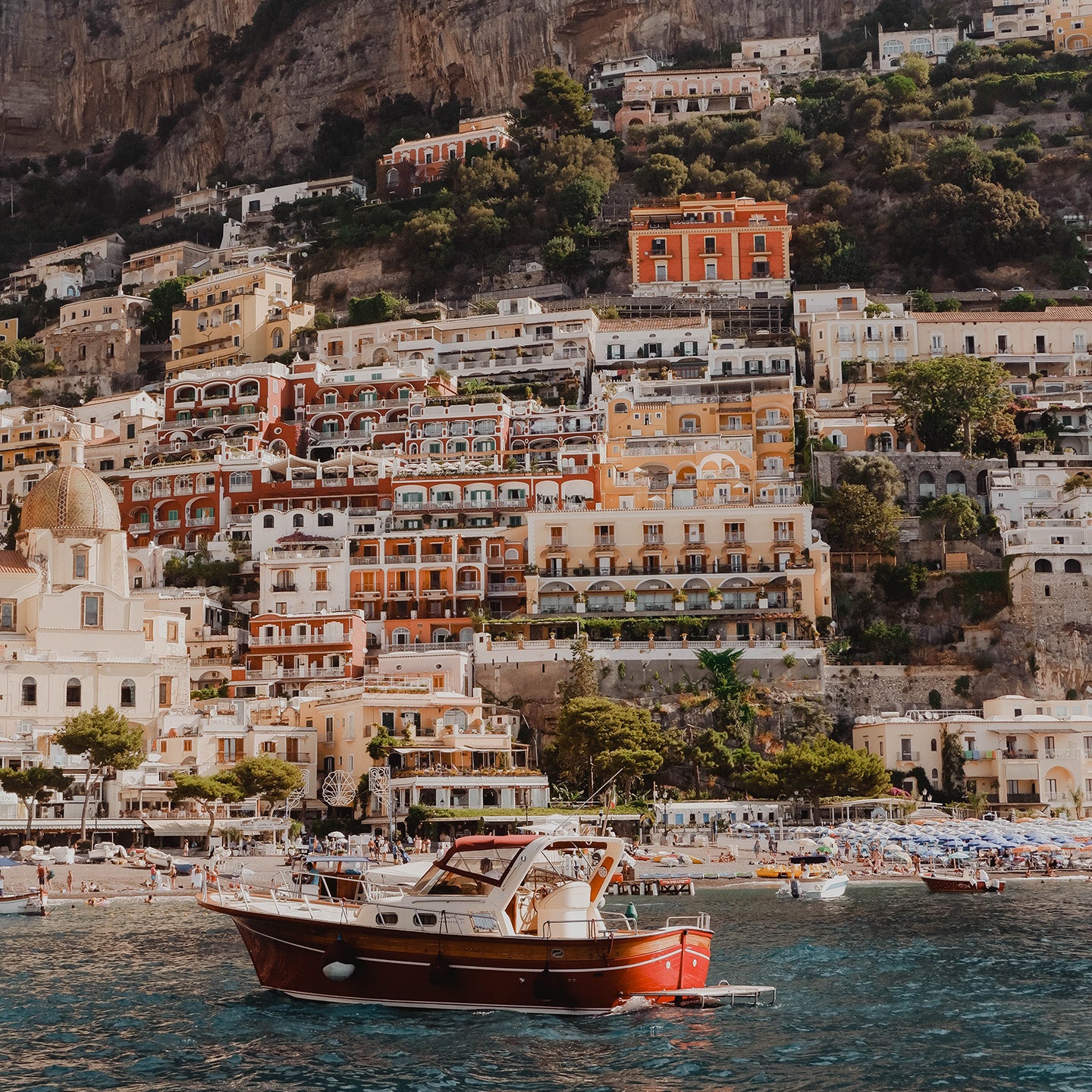 Our Story
Take us back to Positano
Our story starts with a picturesque village perched on the cliffside of Italy's Amalfi Coast, a weary backpacker, a nonna, and a clawfoot tub. The rest, as they say, is history.
Read Our Story