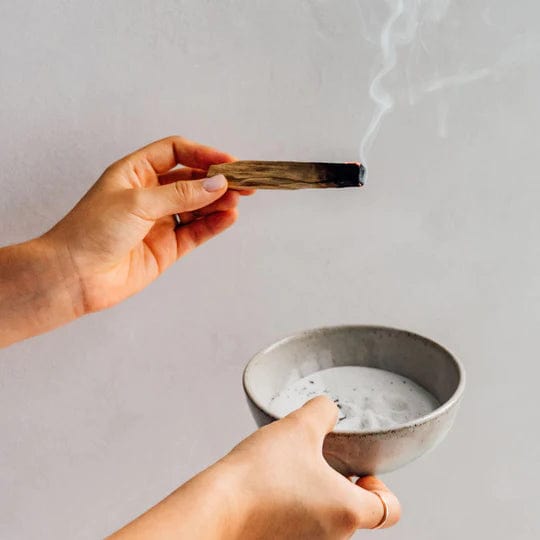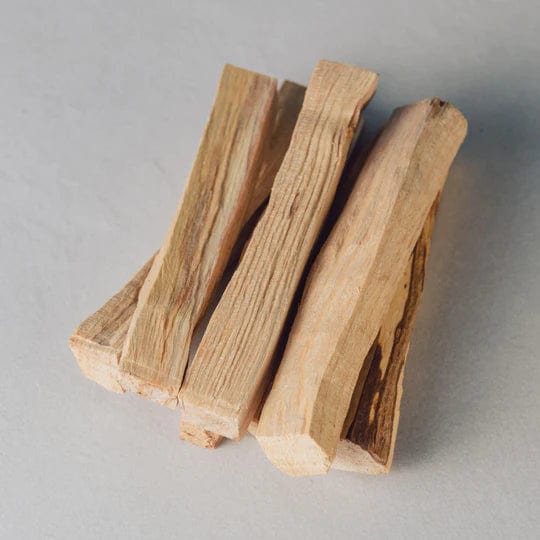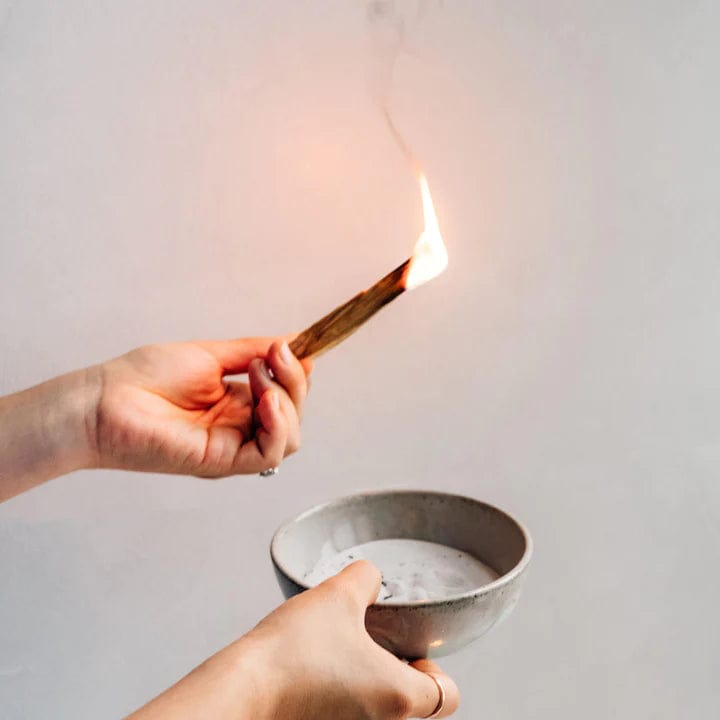 Cedar and Myrrh Burning Ritual Palo Santo Sticks
---
Burning Ritual is a powerful Shamanic practice used to release unwanted energies and attachments from the past and make space for new intentions. Burning Rituals can be used to release unhappy memories, fears, negative emotions, and anything that you are holding onto that doesn't serve your Higher Self. By releasing these unwanted energies and old patterns into the fire, you are healing at the soul level.
Wild Harvested Palo Santo
Bursera Graveolens
Cleansing & Purifying

Description:
Palo Santo (Bursera Graveolens).
It is also known as the "Holy Wood"; which has been used by Indigenous Amazonian and Andean healers in sacred rituals to purify, attract positive energy, and bring peace around them.
Our premium Palo Santo comes from the coast of South America, it is wild-harvested from naturally fallen wood to ensure sustainability and quality at our carefully selected farms.

Scent: Pine · Mint · Lemon · Fireplace · Sweet
6 Palo Santo Sticks (Approximately 4.0 x 0.5 x 0.5 inches & 0.02 pound each, actual product may vary)


Cedar & Myrrh has some of the most beautifully designed and beautifully scented aromatherapeutic products. Their palo santo sticks are our favourite and an essential to any nighttime bath routine!
Cedar & Myrrh is a holistic brand driven by a vision of promoting wellness and sustainability. Their commitment to non-toxic, sustainable products is reflected in their mission to support complete body and mind wellness while encouraging healthier lifestyles.

Founded by Misun Delmon, an industry expert with over a decade of international experience in beauty and wellness, Cedar & Myrrh offers a diverse range of natural, ethically made products and bespoke rituals designed to enhance outer beauty and inner peace, all while ensuring a clean, healthy environment and a radiant, happy you.
Hold at an angle pointing down. Light the tip and blow out the flame so that only smoke is produced. Direct this smoke around your body or space and allow the incense to linger. When finished, place in a fireproof bowl and extinguish in sand.

Warning:
Usage involves fire, do not leave unattended. Keep away from flammable articles. Do not smudge around pregnant woman, children or people prone to asthma or epilepsy. Use responsibly at your own risk.
Our Guarantee

We guarantee you'll love your soak. If you don't, email us at info@bathorium.com to make it right. You can return damaged or defective products for a refund or replacement for up to 30 days after delivery. To be eligible for a refund or replacement, the product must be in its original packaging. Read our full refund policy.

Shipping

Get free shipping on all orders $125+. With the exception of holidays, all orders are shipped same-day before 2:00 p.m. via Canada Post Expedited or UPS from our warehouse in Toronto, Canada 🇨🇦 And for our American friends, you won't pay import duties or taxes—we pay those for you.
Our Certifications
We're for clean bathing, not greenwashing
We take our ingredients seriously: We're verified clean by The Good Face Project, rated zero (for toxins, carcinogens and allergens, oh my!) by the Think Dirty app, and certified cruelty-free by Leaping Bunny. Because we happen to think you deserve better than greenwashing.
Our Story
Take us back to Positano
Our story starts with a picturesque village perched on the cliffside of Italy's Amalfi Coast, a weary backpacker, a nonna, and a clawfoot tub. The rest, as they say, is history.
This product has no reviews yet.